LMTC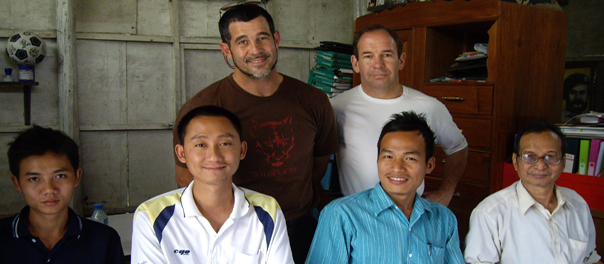 LMTC provides a college level education for refugee youth at Mae La Refugee Camp in Thailand.
The college provides university level education in physics and English to ethnic minorities who fled Burma out of fear for their lives and have no other education opportunity available.
Even if they could gain admission to a University in Bangkok (which is daunting given they have no formal passport from Burma and are refugees), college costs are beyond their means.
Thus, LMTC fills a critical gap to help educate the next generation of democracy leaders for the ethnic minorities and Burma. The operating costs of the school are sponsored by the organization "Child's Dream" but their resources are limited and they are unable to support a dormitory where students can live.
These students come from the several hundred thousand Karen, Mon, Kachin, Shan and other minority groups who live in Thailand without formal documentation or legal status and a surprising number come from within Burma to seek education because the cost of education in Burma is prohibitive. These youth have no financial resources, and are living in the dormitory because they don't have family members at the camp. The dormitory is set up to provide a supervised and safe living environment for these young people.
The graduates from this college provide young leaders to various Karen organizations working on the Thai-Burma border, to offer social, education, healthcare and other services to assist people inside and outside the refugee camps.
The cost of sponsoring a student is $330.00 for the school year. Please contact us if you are interested in supporting one of these promising young people.
Here's what one of the students recently shared with us:
"My name is Saw Phyo That Oo. I am from upper Burma in Mandalay division. I finished high school in Mandalay. I from very poor family then my parents couldn't afford me to go to university after I finished my high school. The school fee and accommodation are very high pay.
"But I know that education is very important and fundamental resources for peace. So I told my parents to cross the border and to go to Mae La refugee camp with my friend to proceed my further study. But my parents are so worry about for me. I have no way to continue my further study. It's taken one week to reach in Mae La refugee camp. When I arrived in Mae La I jointed LMTC entrance exam. Fortunately, I passed the entrance exam I can study at LMTC. Before that I faced so many hardship and challenges I had to overcome. I stayed with my friend relative house. I was feeling very embarrassed to his relative. At that time TBBC reduced ration to people in refugee. They didn't get normally ration that they got previous year.

"Then I approached to LMTC principal and talk to him about my problem. And he is kindly replying me that we, LMTC offer accommodation and food for students from inside Burma and the other camps. I was so happy I can stay at dormitory and study comfortably. Now, I am doing BSc ( physics ) degree in LMTC. I am senior student of this academic year. I am going to graduate soon.
"I would like to thanks everyone BHM try to encourage us on students' scholarship once again this year. Without you we couldn't walk through the challenges that school faced. We wouldn't forget your gratitude and kind support on us."
Sincerely,
Saw Phyo That Oo
year 4 Science
Donations to sponsor a student can be made to Burma Humanitarian Mission by writing LMTC in the memo section of your check, or by donating to the BHM General Fund by clicking the link on this page.