Run for Burma

Use your freedom and your health to promote the liberty and well being of the people of Burma.
Our charity athletic teams are an essential part of our public awareness and fundraising efforts and represent the culmination of some of our most important values - empowering people to exercise their health to support and advocate for the health of the people of Burma.
We provide training materials to help prepare mentally and athletically for your run in addition to resources on how to enlist the support and involvement of your family, friends and co-workers.
We have entries available in the following events, or you can run for Burma in any event for which you have an entry.
WASHINGTON DC MARINE CORPS MARATHON AND 10K
Sunday, October 28, 2018
For the tenth year in a row, the Run for Burma team will participate in the Marine Corps marathon and its 10k in Washington DC in October.
Tis event sells out every year but you can still get a bib to run in this scenic and popular running event on the streets of Washinton DC!
We offer event team t-shirts, free-running bibs, discounts at DC area running stores, training runs, prizes for top fund raisers and a free pre-run pasta dinner for qualifying participants in this event.
Get more info on joining this team.
RUN FOR REFUGEES 5K FUN RUN
Utah World Refugee Day, Date TBA
Join the sixth annual Run for Refugees at Liberty Park in Salt Lake City.
We offer event t-shirts, snacks and prizes for top fund raisers.
Get more info on joining this team.
TOUGH MUDDER, USA
Multiple dates and locations in 2018!
Chose from 7 different Tough Mudder events througout the U.S. Form a team and each obstacle you overcome will save the lives of children in Burma.
Get more info on joining this team.
You can Run for Burma in any race in your community or around the world! In 2014-2017, runners participated in:
The Surf City Half Marathon
The Pittsburgh Half Marathon
The Wild Safari Half Marathon
The Army Ten Miler
Contact us to learn what we can provide you - from free bibs, training advice, fundraising support and more!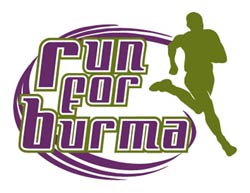 ~ Hilary's Story ~
"On Sunday October 25th, I ran the 34th annual Marine Corps Marathon. This was by far the most difficult race I have ever run. My knee problems started acting up very early in the race. My body started to quit on me before I had even started my sixth mile (with 20 left to go). With tears streaming down my face, I grit my teeth and reminded myself why I was running that day. The race was no longer about my own personal running goals. It was about something better than that. I was running down every dollar that each of you committed to the Karen in Burma. Besides the pain I had to fight off for four hours could hardly be comparable to the pain the Karen have felt for 47 years living under the junta. I refused to let myself walk a single step or stop and rest—I pressed on, and ran every single step with each and every one of you.
I didn't run this race for me. I ran to honor each and every one of you and for those in the world that don't have the access to peace and health that I do."
- Hilary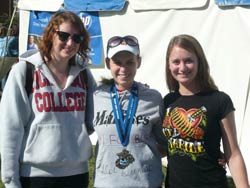 Special thanks for Brooks for your steadfast support of Run for Burma.