Minmahaw School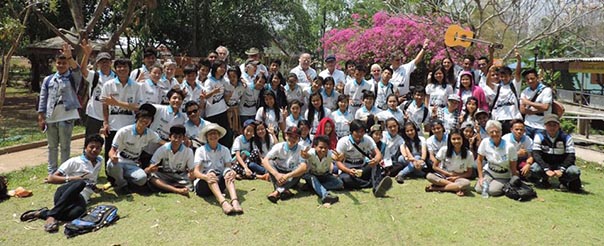 Educational opportunities for IDPs and migrants are very rare. Minmahaw is the only school of its kind to be seeking legal status in Thailand.
2017 UPDATE
Minmahaw School has had its challenges over the last year, and its successes.
1) In March 2016, 44 students graduated from Minmahaw. An additional 8 graduated having spent two years at Minmahaw, the additional year resulted in passing a Teacher Training certification.

2) 15 Minmahaw School students are currently attending universities in Southeast Asia (Bangladesh, Hong Kong, Bangkok), two students are attending colleges in the U.S. (Vermont, Wisconsin).

3) The school successfully transitioned to a new management team. Wai Nyi Nyi held the position of School Manager for two years and had developed skill and ease at handling the problems a "live-on-site" school presented. His replacement, Moe Saung Phwe had a good teacher and big shoes to fill and she has done so admirably. She is the first woman to fill such an important position at Minmahaw School.

4) Collaboration between GlobeMed students at Whitman College and BHM board members, resulted in four energetic interns who volunteered at Minmahaw School in summer 2016. Their enthusiasm and dedication to Minmahaw students helped ease the volunteer teacher gap and gave MS students peers to relate to and learn from.

5) Ko Ye, the Head Manager for MS and MHEP, along with Principal Dan Rolf and other volunteer teachers, formed a partnership with Hong Kong based corporation Top Form. Top Form has taken on 3 graduated MS students as interns to work as paid managers with the mostly Burmese employees in two factories in Mae Sot. Top Form is impressed with the level of English the students come out of MS with and want to hire graduates who can talk and work with others internationally.

6) An emergency funding crisis arose and Moe Saung Phwe and her management team put together a successful crowd funding campaign. Additionally, volunteer teachers from around the globe reached out to their family and friends to help close the gap to get the current students through graduation in March 2017. The crisis has been averted and sustainable funding is being sought to continue MS for the next three years.
ABOUT MINMAHAW
Minmahaw School has expanded to meet the current needs of young men and women from Burma by adding a second year of study, with a vocational focus in Teacher Training. Every student's first year is spent learning academic high school subjects, all taught in English while living in dormitories within a block of the school. During that year, they are exposed to various vocational options such as teacher training, hospitality training, computer training and small business organization.
Year two is an in-depth Teacher Training program, which interested students may apply to. They are taught teaching theory and methodologies and then create class lessons to present. Minmahaw has partnered with an elementary school in the Mae Sot area where they perform practice teaching on a regular basis. During the summer, four Minmahaw graduates returned to a small village inside Burma and successfully taught a summer school program. This personal commitment, evidenced by the student's desire to return to Burma and work to re-build their communities is one of the successfully attained objectives of Minmahaw School.
While recognition of Minmahaw School for its international standard of learning grows, funding continues to be irregular. Fundraising efforts expanded under Burma Humanitarian Mission's umbrella this year, utilizing the efforts of local volunteers for rummage sales, the Minmahaw 500!(a growing number of recurring donors), and personal appeals.
Today  a $50 donation will provide all school supplies for a month, a $150 donation will rent the school/dormitory compounds for an entire week, and a $500 donation will feed all 45 students for approximately one month.
Our goal continues to be to support Minmahaw in its long-term vision of providing quality education to young men and women from Burma. In the short term, we are working to eliminate the funding emergencies that arise at Minmahaw by securing a steadier stream of donations from a broader base of donors.
PRIMARY OBJECTIVES
Provide education to the new generation from Burma, at an international standard, by increasing their general knowledge, promoting critical and lateral thinking, and providing awareness of world issues.
Encourage the new generation to have a personal commitment to Burma, so students will return to Burma or the border after university, in order to guide and educate their people, and continue to work for change in their communities.
Be a channel for disadvantaged youth to gain access to further education, by preparing students to take an accredited exam and helping them receive scholarships.
Promote and strive towards self-sustainability, by involving the local and international community in school activities and fundraising.
MINMAHAW STUDENT COMMUNITY GARDEN PROJECT
The Minmahaw Garden was born in December 2012. A British NGO provided funds to develop a garden and bought bamboo, seeds and cow manure for the students attending and living at Minmahaw Post Ten School. Along with Tom Manell, volunteer teacher from Tuscon and 10 students who chose to participate, ground was cleared, raised beds installed, seeds planted, watered, and weeded. Vegetables have been harvested continuously and students are benefitting from their enriched diets. When the school cannot use all the vegetables harvested they are sold in the neighborhood, sometimes given away to the poorest neighbors and also gifted to the Village Chief, who has allowed them to garden on this patch of land.
In early June, Minmahaw was given notice that the land was sold and the new owner plans to build a house on it soon. Scraping as much soil as they could of the soil they "created" and moving the bamboo structures, they have planted a much smaller garden at one of the dormitory sites, just a few houses down from the school. Undaunted by the temporariness of growing their food on land that does not belong to them, they just found land two blocks away in which to re-establish the glorious garden you see in this slide show. They have funding commitments to rent the land for eighteen months, which they will fully utilize to both learn gardening skills and to feed themselves.
BACKGROUND
The Minmahaw Education Foundation (MEF) was created in January 2007 by a group of undocumented Burmese migrants and foreign supporters living in Mae Sot, Thailand, the center of Burmese migrant activity on the Thai-Burma border. Led by long time political activist U Than Htut, and motivated by the lack of educational opportunities for Burma's future democratic leaders, MEF's purpose was to provide a pathway to university education for a few of the gifted, dedicated, but economically disadvantaged Burmese students among the three million plus migrant population in Thailand. This goal was realized by establishing a school and adopting the curriculum of the ICFC program, previously developed by the Burma Project in Chiang Mai, to prepare students to take international college entrance exams.
With very little start up funding, a house was rented and volunteer management and teaching staff were recruited among Burmese and foreign supporters. The organization was unregistered and technically illegal under Thai law, and due to their lack of travel documentation, both management staff and students were vulnerable to arrest and deportation. Nevertheless, the first MEF class to graduate in 2009 took the university entrance exams, and achieved eight passes out of nine, an exceptionally high rate. With these results, Minmahaw attracted the attention of the Thai-Swiss NGO "Childs Dream" (www.childsdream.org), which decided to sponsor MEF's university preparation program, now called the Minmahaw Higher Education Program (MHEP), including coverage of all staff and student expenses.
MINMAHAW HIGHER EDUCATION PROGRAM
MHEP graduates currently study in Bangkok at Rangsit University, Assumption University, Asia Pacific University, and in Hong Kong at Hong Kong City University. Some scholarships for MHEP students are provided by donors from Childs Dream and the Thabyay Foundation (www.thabyay.org). MEF has high academic and character standards, which enables its students to win the lion's share of annual scholarships, and it has been praised by its scholarship providers for the success its students are having in the various universities. MEF maintains a strong alumni organization among its graduates, and sees them as a pool of future teachers and staffers for the school, as well as the future leaders of a democratic Burma.
POST-TEN
Because of its growing reputation for success, in the border areas as well as inside Burma, MEF saw student applications rapidly increase to over 500. In 2009, MEF began a Post-Ten Program (referencing the 10th Standard, or final year in Burmese high schools) for students with high potential but who did not meet the standards for the now 24-seat MHEP class. Currently there are 44 students in Post-Ten, who study intensive English and other academic subjects, with an emphasis on speaking skills and critical thinking. One of the Post-Ten volunteer teachers built a "mushroom farm" on a vacant lot and teaches small business management. Some of the Post-Ten students go on to the MHEP class, others become volunteer staff at MEF or join other organizations in Mae Sot. The Post-Ten Program has no institutional funding and relies on individual and group support from sympathetic donors around the world.
VOCATIONAL TRAINING
During the April-May "summer break", the Post-Ten classrooms Are used for special vocational courses in accounting, computer repair, and teacher training, all of which are very popular. When funding for additional classroom space is available, MEF will institute these training programs on a year-round basis. Becoming economically self-sufficient is a challenging task for most migrants, but MEF plans to provide the necessary education, tools, and collateral support as much as possible.
MIGRANT SUPPORT
MEF is committed to expanding its educational mission by providing social and educational support for the huge population of Burmese migrant workers in Thailand. This year MEF established a pilot kindergarten program for children of farm workers in the countryside south of Mae Sot. Funds were raised and guidance provided for the workers to build a classroom, train teachers, and provide education for 30 children from 4 to 12 years old. There are plans to replicate this low-cost program in many rural areas in Thailand. MEF also plans to publish a free bi-weekly Burmese language magazine to focus directly on the interests and needs of the migrant worker population, with wide distribution in migrant areas, through its associated group, the Burma Independent News Agency (BINA), which also publishes the MOJO newspaper. These programs can begin once funding becomes available.
Your donation makes the goal of higher education possible for a young man or woman from Burma.