Meet Our Team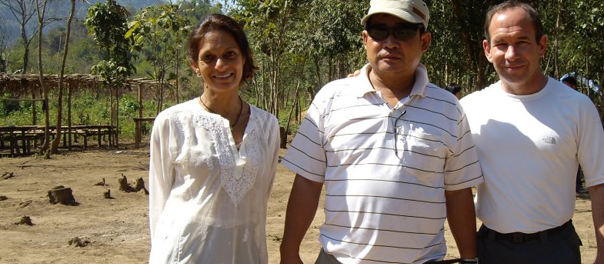 AMITY ARORA
"From a very early age, I had an appreciation for how fortunate most of us are in this country to have a roof over our heads, access to healthcare, food, and clean water. While growing up, I travelled to India and witnessed such abject poverty - human beings literally living in the gutters, scrounging for food, and desperately ill - forgotten people. I was impacted by plight of the human condition when denied basic, fundamental rights.

"My grandmother in India used to rise every morning at 4am to churn butter and hand it out to the homeless/hungry who lined up at her door. Her compassion in action was the inspiration for a clinic for the impoverished later established in her name. People with maladies now walk for miles to be treated there. My grandfather served as the 'mayor' of the small village where they lived and was a huge proponent of education. Later a school would be established in his name. This was the "Arora" legacy – and the proclivity towards service cou rses through my blood and is part of my heritage. This yearning has guided me through several chapters of my life to a place where I now care for patients as a nurse where I am reminded everyday of how fortunate we are to have access to healthcare.
"The moment I was introduced to BHM, I was drawn to this group of genuine, caring and compassionate people whose aim was to protect and promote basic human rights of the people of Burma. I resonated with their philosophy that the way to truly help people is to empower them - to provide the means and resources to enable them to determine their own path and find their own solutions to help themselves. I am a firm believer in this sustainable approach. I immediately felt a kinship with these like-minded people and discovered a potential to marry my yearning for service with my background in healthcare.

"I had the opportunity to travel to Mae Sot, Thailand in 2011 and witnessed the amazing work the Back Pack Health Worker Teams are doing. I was inspired by what they've been able to accomplish amidst such brutal persecution and with so few resources. During our meetings with BP health workers, we asked them what compelled them to become a health worker when it meant to put them selves in extreme danger and to be away from their families for months at a time. Each one humbly stated, without hesitation, that it was simply to take care of their people.

"We also met with LMTC students in the Mae La Refugee camp and asked what they'd like to do with their training. Many said that they would like to become a health worker - often because of the profound impact the BPHWT' made in their villages - recounting stories of how a family member's life was saved . Others indicated that they'd like to continue to advance and help lead a democratic Burma. These youngsters had such maturity and munificence . The desire to be of service to their people was at the heart of each of their answers. For me, this was sort of like a home-coming.
"The benevolence of these selfless people is something that we all continue to learn from. BHM's programs help to perpetuate this cycle and foster this growth. As we assist the people of Burma to realize their goals and secure their fundamental rights of health and liberty we are also empowered to rise to the best in our own selves through their example. I am honored and privileged to be part of such an organization."
Amity joins the BHM board with a tradition of service - particularly in areas where there is an intersection of human rights and medical need. She is a Registered Nurse with a background in Information Management and has formerly worked for the International Red Cross. Amity brings this background to her role as Director of Medical Programs.
Learn more...