Meet Our Team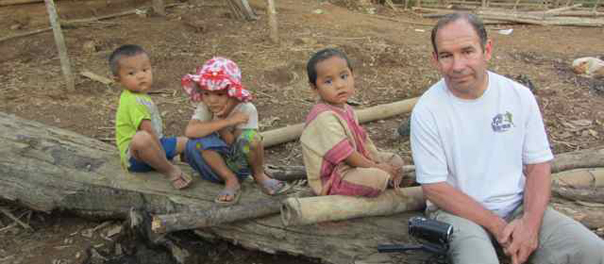 MIKE ISHERWOOD
"I was a young teen in Foster Care in Michigan where the state had control over who I lived with. When I was 15, I was yanked out of a home and moved to a new family. I had zero control over my own life. I learned first-hand, in a very personal way, what my liberty meant to me and my own experience of being displaced from my home gives me a personal resonance to what I imagine the children of Burma experience when they are forced to flee the security of their villages -- displaced to camps or becoming migrant workers in Thailand, working hard to support their families, and struggling without support to build their future. Or when their parents are killed at the hands of the junta and they are forced alone in the world.
"Because I was here in the US I was able to work hard and get an education. I had to fight to be able to determine my future but from a starting place of nothing, I was able to create a fortunate life for myself. I vowed that my children would never have the same experience I did growing up – they would feel secure. I would be there to nourish and empower them to flourish in their lives. They would never experience being a displaced person in their own world.
"Later as a father, I experienced heart-wrenching pain of seeing my children suffer when they were sick. I knew that I would do anything to help relieve my children's suffering. Fortunately here in the US we had access to good hospitals. I saw how important medicine was to making them healthy so they could smile again.
"In 2006, a dear friend introduced me to BHM and the work they did with the Karen living in Burma. With Burma Mission, I found a people who understood what liberty means in much the same way I learned as a teenager. I also found parents who desperately needed medicine for their kids. Simple and basic drugs were as important to they had been for my children when they were sick while growing up. And I saw that there were things I could do to help the Karen and others get the medicines they needed. At the same time, I could empower the youth of Burma to gain access to a future that would otherwise likely be out of reach for them.
"Burma Mission is my avenue to pour my passion to help people. I am determined that the people of Burma are able to actualize their liberty, and that the parents in Burma are able to feel that they can provide their children with a better future. This is the heart of what we do, and it's a very natural fit for who I want to be and how I want to be present in the world."
Mike is Chair of the Board for Burma Humanitarian Mission. Formerly our Treasurer, Mike led our original efforts to become recognized as our own 501c3. Mike maintains relations with the Backpacking Medics that BHM supports and reviews all new funding requests. Mike also coordinates media opportunities and press releases. An avid, life-long runner, he leads the Run for Burma teams.
Return to Meet our Team
Learn more...